Skills Transition
3rd February 2022
by Andy Rodden, Director Offshore Renewables
After 50 years at the forefront of the oil and gas industry, the north east of Scotland has a highly skilled workforce and the biggest concentration of energy supply chain companies in the UK.
The knowledge and expertise gained, and infrastructure built, over the decades of pioneering offshore activity puts the region at the very forefront of energy transition and the race to net zero.
Established in April 2021, ETZ Ltd has a pivotal role to play in supporting this transition and establishing the north east as the net zero energy capital of Europe. ETZ Ltd is a private sector company, operating as a not-for-profit, but with a clear commercial focus. With funding from the UK and Scottish Governments and Opportunity North East, we are focused on three core areas:
The development of the flagship Energy Transition Zone adjacent to the new £350 million development at Aberdeen South Harbour; a catalyst for high-value manufacturing, research, development, and deployment of new energy technologies.
Ensuring the acceleration of energy transition projects by working in partnership with industry, educational institutions, and the local community.
Supporting the transition of the skills and capabilities so prevalent in the north east; anchoring existing skills and high-quality jobs in the region, and becoming a net exporter of products, services, technologies, and skills.
It is this transition of skills and capabilities that will underpin the future growth and success of the region. The Energy Transition Zone will support 2,500 direct jobs, with a further 10,000 energy transition-related jobs across the region. It is therefore crucial that our current workforce and future generations are equipped with the skills necessary to take advantage of the wide range of opportunities energy transition will bring.
The key to delivering a successful energy transition is to ensure that industry and the supply chain come together to understand the challenges and develop the solutions needed. This has never been more crucial as offshore wind seeks to exploit more complex sites, deliver floating wind at scale, offshore green hydrogen, and carbon capture utilisation and storage, all of which will benefit from the skills, experience, and lessons learned for an oil and gas sector based in the region.
ETZ will support 2,500 jobs, with a further 10,000 energy transition-related jobs across the region.
ETZ Ltd has secured funding from the north east Economic Recovery and Skills Fund (NEERSF) - Scottish Government funding aimed at supporting economic recovery and enhancing skill levels in Aberdeen City and Aberdeenshire. We are allocating £3 million of funding on a number of energy-related projects including:
Energy supply chain support programme
Working with oil and gas operators and supply chain companies from across sectors to address energy transition challenges. Our first challenge, which closed to submissions at the end of November, invited supply chain companies with an operational presence in the north east to propose existing products and services that can materially contribute to reducing operators' greenhouse gas emissions and help meet UK net zero targets.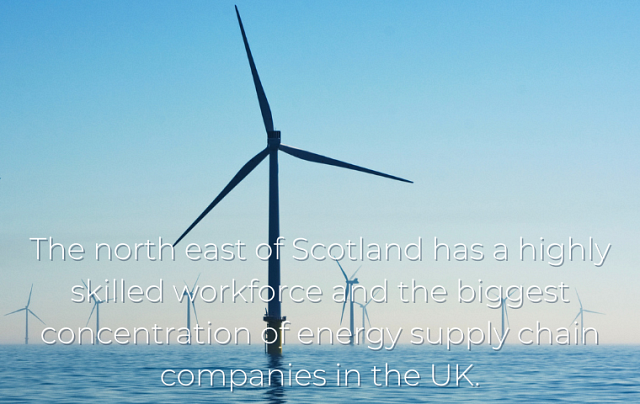 International Energy Market Specialists And Internationalisation Knowledge Exchange
Working in partnership with Scottish Development International and the Scottish Government, we are co-supporting five additional in-country energy market specialists in the USA, India, Malaysia, Mexico and South Africa. These specialists provide country insight, introductions, connections and promote the Scottish energy supply chain.
The Internationalisation Knowledge Exchange programme supports learning, networking, and collaboration with peer companies with a focus on international energy transition opportunities.
We are allocating £3 million of funding on a number of energy-related projects.
Digital Adoption
Currently, in development, this programme will aim to accelerate the pace of energy supply chain digital adoption and digital transformation. Through interactive workshops, energy supply chain participants will engage with the local digital supply chain to provide focused guidance and tailored digitalisation pathways.
Energy Transition Pathway
Also currently in development, this programme will support energy supply chain companies to understand and win work in low carbon energy industry areas, through masterclasses, workshops and challenges.
X-Academy
Led by energy consultancy Xodus, X-Academy will provide training opportunities for hundreds of people to work directly on initiatives to reduce emissions and accelerate efforts towards net zero.
MCERTS
We are supporting 100 individuals to be trained on new equipment and to achieve the Environment Agency's Monitoring Certification Scheme (MCERTS) accreditation.
Fit 4 Offshore Renewables – Cohort 2
Delivered by ORE Catapult, Fit 4 Offshore Renewables (F4OR) is a unique service to help the UK supply chain get ready to bid for work in the offshore renewable energy sector. Following the success of cohort 1 in which 20 companies benefited from the programme, we supported access for a further 20 companies. Cohort 2 expressions of interest are now closed.
Recertification Training
We are supporting recertification for more than 350 individuals living in Aberdeen or Aberdeenshire, including OPITO Offshore recertification courses and GWO wind training courses. The training will take place between January and March 2022 with applications for places on this training to be delivered in partnership with RelyOn Nutec now open with information available at www.relyonnutec.com/support/energytransition.
Recertification And Training Grants
This is a series of small grants intended to support companies to recruit or sustain employment by supporting the training costs of upskilling and reskilling new and existing staff to deliver company growth ambitions.
Our region, through a world-class oil and gas industry, has made an invaluable contribution to the UK's energy requirements.
In addition, we are proud to be a regional partner, alongside Skills Development Scotland, of the new National Energy Skills Accelerator (NESA) programme; a collaborative initiative between the North East of Scotland College (NESCOL), University of Aberdeen (UoA) and Robert Gordon University.
NESA is a key component of skills delivery and will enable education partners to work effectively with industry to promote, align and deliver skills development offerings and programmes which are responsive to industry needs and position the north east of Scotland as a world-class region for skills development and training in support of global energy transition.
Our region, through a world-class oil and gas industry, has made an invaluable contribution to the UK's energy requirements. Now, as the industry matures, ETZ Ltd is focused on progressing ways to harness and retain our region's existing skill set, while securing new jobs and investment.
information@etzltd.com / www.etzltd.com
This commentary is an extract from our 2022 Salary Guide which is available to download and was published in December 2021.