Dreams Today, Careers Tomorrow
13th December 2022
A talented young artist from Hazlehead Academy has been chosen as the winner of the annual TMM Recruitment art competition, which invites pupils to illustrate their future hopes, dreams, and career goals.
The My Future Aspirations competition, which has been running since 2009, challenges S1 and S2 pupils from across Aberdeen and Aberdeenshire to consider and show their future life and career dreams through art. This year the self-portraits reflected a diverse range of career ambitions and included astronaut, basketball player, artist, chemist, and forensic scientist.
Matthew Marr of Hazlehead Academy was the overall winner, chosen by a panel of judges.
The 13-year-old, who is in S2, created a model imagining himself as an author, having drawn on very personal experiences.
He said: "I would like to be an author. I've been reading since I was five years old and when I was seven I read my favourite book of all time, The Shapeshifter: Going to Ground by Ali Sparks. I loved the story and when someone made fun of me because of the way I looked I just imagined being able to turn into anything I wanted.
"Ever since then, I've always wanted to write something that helps someone like it helped me."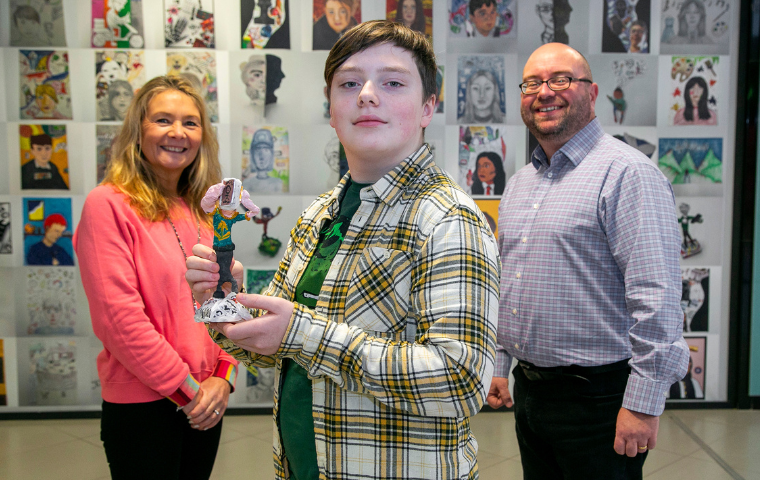 Matthew with Karen and Bon Accord Centre Manager, Craig Stevenson
Matthew's teacher Hilary Forbes said: "I can't tell you what a deserving winner Matthew is. He did most of the artwork in his own time, at lunch and break times and we are delighted for him."
The People's Choice winner was Lyla Booth of Banff Academy, who would like to be an architect, author, or bass guitarist.
Her drawing shows her surrounded by images of her passions of music, books, and design.
Lyla's work was chosen by members of the public who voted on social media for their favourites.
Karen Molloy, co-founder of TMM Recruitment, was head judge, supported by artist Gundra Nock, James Bream, chair of Developing the Young Workforce (DYW), and Craig Stevenson, manager of the Bon Accord centre.
She said choosing just one overall winner was a tough decision.
"Seeing all the fantastic entries in our art competition is one of the highlights of my year.
"It was extremely difficult to choose just one winner, but we felt Matthew's artwork stood out for the attention to detail which clearly illustrated his aspiration to become an author one day, and his personal story, which he shared in his narrative, was poignant and resonated with the judges too.
"As a recruitment agency which specialises in finding people their dream jobs, we'd like to congratulate both Matthew and Lyla, whose excellent drawing struck a chord with the public, and we wish them both luck with their future career paths.
"It has been fascinating to reflect on the competition over the years. Many pupils have gone on to realise their career dreams, or to work in a career that's related to the aspiration they described in their self-portrait. I think it's an important message to share with everyone – career dreams can come true."
Aberdeen Grammar School, Banff Academy, Dyce Academy, Harlaw Academy, Hazlehead Academy, Inverurie Academy, Kemnay Academy, Robert Gordon's College, St Machar Academy, The Gordon Schools in Huntly and Westhill Academy participated in this year's competition and the entries can be viewed in the Bon Accord Centre and online at https://www.tmmrecruitment.com/artgallery/