Interviewing And Recruiting School Leavers
16th February 2023
More people are entering or returning to work. The Office for National Statistics reports a record number of people moving out of "economic inactivity" during the last three-month period of 2022, helped by 16- to 24-year-olds either getting jobs or looking for work.
If you've made it a priority to hire young people into your business (whether through an entry-level job, traineeship, or apprenticeship) it's worth reviewing your recruitment practices and conventional interview techniques to make sure your jobs are attractive and accessible to school leavers and college graduates. Don't rely on how you've done things in the past because outdated recruitment methods will exclude people with great potential.
Prepare To Hire Young People
The BITC Youth Recruitment Mystery Shopper programme has highlighted the difficulties young job seekers face when searching for employment.
Without realising, employers are turning off the very applicants they hope to attract with job adverts that are hard to find and hard to understand. Compounding the problem, many young people don't have the experience or confidence to make enquiries to determine if an advertised job could be right for them.
The main issues relate to:
1. Jobs are hard to find on company websites - so it can appear that you are not recruiting at all.
2. Career pages don't look attractive or accessible. It's always easier to imagine yourself working at the company if you can see people like you on the website, rather than senior executives or colleagues who are decades older. And if it really is an entry-level role don't ask for previous experience.
3. Job descriptions are hard to understand and peppered with jargon or technical "lingo" which makes it seem that your business literally speaks another language, and that's intimidating.
4. Location, salary, or hours of work information aren't provided. Without a location, it's impossible to know how long the journey to work will take or how much it will cost to travel there and without hours of work the job seeker will be unsure if other commitments, such as part-time study or caring responsibilities, can be accommodated.
5. Lack of transparency around the stages of the recruitment process. Being clear on your process demonstrates good communication and sets expectations - every employee hopes for these attributes in their employer.
6. Applying for a job and never hearing back is the most demoralising aspect of a job search. Be clear about when applicants can expect to hear from you at every stage of the process.
Using the evidence from their research, BITC has compiled a simple checklist of actions for employers, providing useful steps to improve your hiring practice. A bonus is that much of the advice will lead to more inclusive recruitment generally.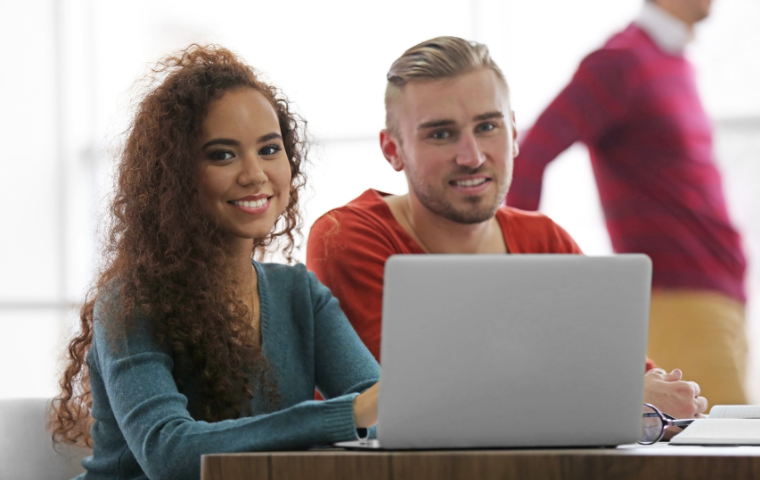 There's more to recruitment than devising a job description that's appealing and a process that's straightforward.
Reach Your Target Audience
Place your business in front of the young people you want to attract rather than expect them to find you.
Tailor your messaging for each social media channel. It's likely that you'll be seen by young people on TikTok but if your job ad is on Facebook then it's more likely that parents and older family members will see it.
Link job ads to your culture, values, and "About Us" website pages. It might be even more powerful to link to employee and customer testimonials or content that shows the difference your business makes in the real world.
Utilise platforms such as DYW Northeast, Marketplace, and Apprenticeships.scot.
Attend school and college career fairs, participate in workshops, or get involved in collaborations that develop skills in young people such as Young Enterprise or STEM challenges.
Maybe even establish your own competition or event to engage directly with young people and raise their awareness of your business.

Tailor Your Interview Style
Be friendly and take a more informal approach that evaluates enthusiasm, commitment, and willingness to learn. Remember that this is a two-way conversation and if the interviewee has done their research they'll have questions for you too – so be prepared to answer them.
It's not necessary to restrict the interview to a series of questions - a tour of your facilities, the opportunity to talk with employees who joined as school leavers or learning about your training programme will make a great impression. You could take it a stage further and conduct the interview during the facility tour, adopting a conversational style.

Take a more informal approach that evaluates enthusiasm, commitment, and willingness to learn.
Try to ask questions that provide insight into the type of person you are interviewing and reveal motivations, personal achievements, and attitude towards work.
Enable the candidates to respond as thoroughly as possible by sharing the questions ahead of the interview.
With limited work experience to talk about, if you're unsure how to structure the interview introduce tasks. We've provided a few ideas here, along with interview questions that draw upon personal experiences.
Where communication is an essential attribute ask candidates to come to your interview with a prepared presentation on a topic that's familiar to everyone like a holiday, school trip, or hobby.
If you're looking for problem-solving and creativity ask the candidates to bring something to the interview that they made or designed.
Try speed interviewing, where a small group of candidates is interviewed at the same time, rotating round different members of the interview panel in short 5-minute interviews.
What do you know about our company?
Why do you want to work for us?
Tell me about yourself.
What's your most significant accomplishment in life so far?
What are your strengths, what are you good at?
Tell me about a time when you worked in a team.
Tell me about a challenging situation you've been in.
What are you most interested in learning?
How would your friends describe you?
What are your interests, what do you enjoy doing with your family?
Do you have any questions for us?

Onboarding
The process of recruiting someone isn't over until they've worked through a successful onboarding period. You have a duty of care that's especially important for young workers as this could be their first job. The programme of onboarding activities and milestones are critical of course, but it's colleagues and co-workers who will make the biggest impact.
Ensure the whole team aware is aware that a young person is starting work in your business and make as many introductions as you can. Opportunities to integrate quickly, ask questions, and understand their duties can be facilitated by a buddy, someone who is approachable and can relate through their own relevant job experiences, and even the most experienced line managers may need training to raise their awareness of how to support, motivate and communicate with a young person entering the world of work.