Defy Convention With Cross-Sector Hiring
14th June 2017
While skills retention is a constant business priority, representing an investment in your people and an edge against your competitors, skills availability is a relentless business concern, particularly for growth and niche businesses.
The 20th CEO survey from PwC found that 83% of UK CEOs are worried about how to acquire key skills. It is interesting that the key skills most highly sought after are adaptability, problem-solving, leadership, collaboration, creativity and innovation. These skills transcend all sectors yet "sector experience" is often cited as "essential" by hiring companies. I believe the fear of cross-sector hiring is resourcing sabotage.
For technical roles, particularly engineering, I accept that sector experience can be vital. But where there is synergy in systems, processes, market challenges, financial models, people management and strategic thinking then the talent pool can be dramatically increased by taking a broader approach to hiring. An approach where competency is valued over experience, diversity is a key driver for growth and adaptability means being ready to effectively respond to the next challenge.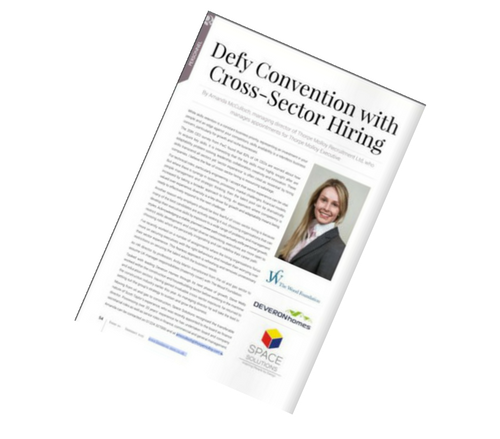 Another reason why employers should be less fearful of cross-sector hiring is because many of the best candidates are actively seeking it out, choosing organisations that can develop their executive skills by exposure to a wide range of problems and management styles. Acknowledging a stable, planned career path could actually stifle personal growth, restrict skills development and curtail diverse networking, executives are more open to choosing roles which are personally invigorating and can redefine their career path.
I've recently worked on a number of assignments where the hiring organisations focus more on securing executives with the right behaviours and mind-set than worrying over their sector experience. This fearless approach is refreshing and removes unnecessary restrictions on securing the talent which the business needs.
An HR Director by profession, Anita Martin transitioned from the oil and gas sector to assume UK Manager responsibilities (maternity cover) with The Wood Foundation.

Tasked with leading Deveron Homes through its next phase of growth, Steve Wells worked within the construction and housebuilding sector before working in the maritime and education sectors. Having gained invaluable cross sector exposure he returned to the construction industry earlier this year. As Managing Director he will take the lead in setting out the group's strategy to sustain and grow the business.
Moving from oil and gas to construction, Space Solutions recognised the transferable nature of Scott Taylor's experience, who was recently appointed to the board as Finance Director. Possessing over 20 years' experience he has undertaken board and company secretarial roles as well as senior roles in finance, commercial and general management.
This article also appeared in the summer edition of Business Now magazine.