A Window Into The World Of Marine Biology
9th March 2018
Donnie Scott, a 13 year old pupil from Aberdeen Grammar School, dreams of becoming a marine biologist.
With such a career in mind, Aberdeen's Bon Accord Centre probably wasn't one of the places he thought he would meet likeminded people or learn more about his career choice.
But that changed when Donnie created a sculpture of his career dream and entered it to Thorpe Molloy Recruitment's art competition. On becoming a finalist in the competition, his sculpture came to the attention of Dr Fiona McIntyre, director of the Greyhope Bay Project.
Fiona explains what happened next, "As a marine scientist myself I was delighted to learn about Donnie's career choice and knew his sculpture would make a fantastic addition to our "pop up" information and exhibition space in the Bon Accord centre.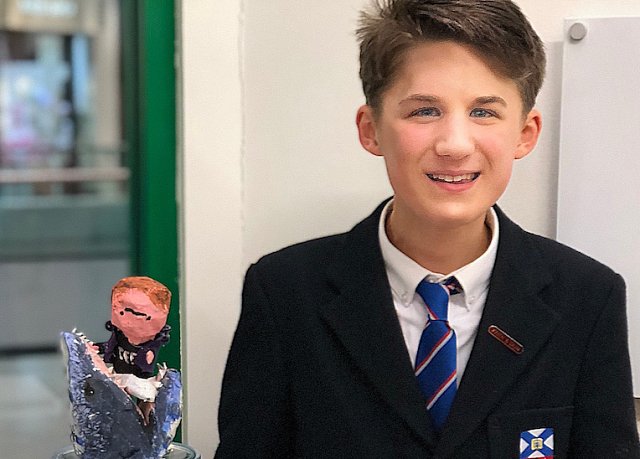 Donnie Scott, Aberdeen Grammar School, with his marine biologist sculpture.
Collaborating with Gray's School of Art design students and local photographers, we have brought the panoramic views from Greyhope Bay to the city centre retail unit and, throughout March, April and May, members of the public can visit to learn more about our plans for the new marine experience centre at Greyhope Bay in Torry.
Greyhope Bay will be an art and science centre so it was important to reflect this in our temporary information space, filling it with exhibits that bring the ethos of the project to life and appeal to people of every age and all walks of life."
Judith Thorpe, Thorpe Molloy Recruitment said, "When I met Donnie his passion to become a marine biologist just shone through. I immediately thought Fiona would be a great person for him to know, to learn how she pursued her career dreams. Donnie's really clever sculpture will definitely make people smile and you never know, perhaps fire the imagination of other young marine enthusiasts too."