Career Ambitions Shine Bright Through Art
8th February 2018
What do you want to be when you grow up?
Most young people are asked this at some point, and it can be a really tough question to answer. But not for the pupils who entered Thorpe Molloy Recruitment's art competition "My Future Aspirations".
The initiative, now in its eighth year, challenges S1 and S2 pupils from Aberdeen and Aberdeenshire to convey their dreams for future training, development and careers through art.
This year's competition saw 155 entries from 20 different schools across the region. This year's self-portraits ranged from doctor, fisherman, film director, scientist, architect, anthropologist, rapper – and more.
Winner of My Future Aspirations - Jessica Broadrick, Portlethen Academy. Jessica aspires to be a sports scientist.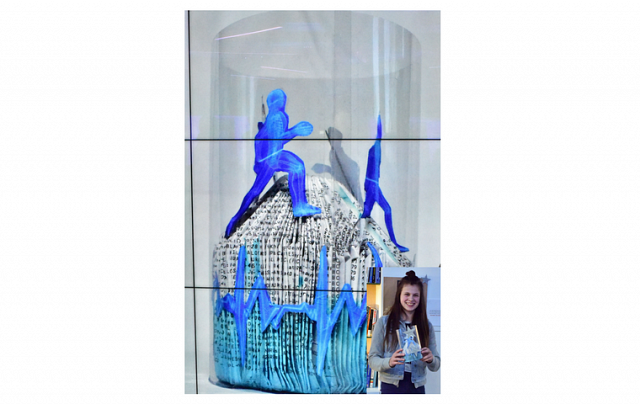 Head judge Karen Molloy said: "As a recruitment company we are interested in career choices so when we first ran the competition the intention was to give pupils a reason to think seriously about what they might want to do in the future and the subject choices they should make to support that career choice.
"As the years have passed however we've come to appreciate how this competition also provides an opportunity for independent thinking and inclusion. It taps into creativity among young people at a time when, in their imaginations, anything is possible.
"2018, Scotland's first ever Year of Young People, aims to celebrate their achievements. This is exactly what our art competition does and I believe it is a brilliant way to start the year off."
The competition is supported by Developing the Young Workforce – North East Scotland, an organisation which helps build meaningful partnerships between employers and education.
Director James Bream said: "The range of job roles reflected in the portraits produced by students shows the ambition and enthusiasm the next generation has for pursuing careers across a huge spectrum of industries, sectors and job roles.
"Choosing a career is one of the most important decisions we make and the process starts with thinking about what inspires you and understanding what it takes to get there. My Future Aspirations is a great way to help young people identify their goals and the pathway they need to follow to achieve them."
The People's Choice (the public vote) - Trisha Shenoy, The International School of Aberdeen. Trisha aspires to be a musician in an orchestra.