Video Interview Preparation
3rd December 2020
When preparing for a video interview much of the advice for an in-person interview still applies, but there are a few extra things to consider too:
No Distractions
Get rid of any clutter around you and aim for a background that isn't distracting to the interviewer (we show you how to change your virtual background in the video below).
Find a quiet space that is well-lit.
Turn phones to silent and switch off notifications.
Dress Code
While dress code has nothing to do with your abilities it is still important to dress for the job you are interviewing for - and not just on your top half! You'll be surprised to find that it also helps with your posture and gets you in the right frame of mind.
Testing Testing
Have a test run to ensure your mic, camera and speakers are working and if you are on wifi, make sure you are in a strong signal area.
If you are unsure how to check your setup is right watch our really short video which explains what to expect when you are invited to a virtual video interview on Microsoft Teams or Zoom. Taking the time to test is highly recommended - it really will help put your mind at rest and ease those annoying interview nerves.

Interview Interaction
You can't shake hands but you can still interact with the interviewer:
Make good eye contact.
Don't forget to smile.
Initiate conversation with a simple "hello, how are you?"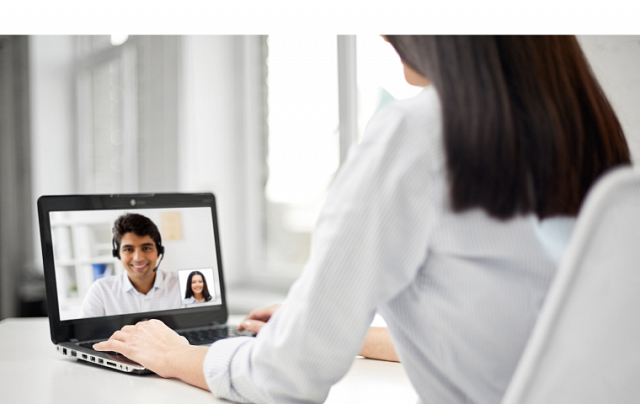 Body Language
It can be easy to slouch at your desk or lean in too close to the video camera. When you are testing your setup, ensure your face is in the centre of the screen and the interviewer is not just looking at the top of your head. Even if you are having a good hair day, this is not a good look!
Practice
One thing for sure is that you'll be asked about your experience and accomplishments. If you feel awkward talking about yourself, it is time to "get over it"! Practice by talking out loud to yourself or a trusted friend. The more often you say it, the less weird it will feel, and as a result, the words will flow more naturally when you're put on the spot in the interview.
Positive Attitude
Don't just talk about your professional achievements, explain what you've achieved, actioned, or completed, especially during the Covid-19 pandemic. This will demonstrate how you've tried to take some positives from a very tough situation.
Homework
A massive benefit of virtual interviews is that you can have your company research and a copy of your CV in front of you for reference, or to answer a question more fully. This should help make you feel a little more confident and prepared.
There's more advice on setup, tools, dress code, and preparation in our blog post Mastering Video Interviews, but if you are in any doubt, don't hesitate to contact your recruitment consultant who will be really happy to help you with a practice run.