2022 North East Salary Guide
21st December 2021
Momentum has been building throughout the year and we're back working at pre-COVID levels. Across Aberdeen city and shire the number of online job postings has doubled in the last 12 months and hiring clients, from start-ups to international firms, express their concern about skill shortages.
In the latest edition of our guide we discuss recruitment activity and share advice that will help employers attract applicants in this competitive market. And of course, we've updated the salary band guidance for job roles across each of our specialisms.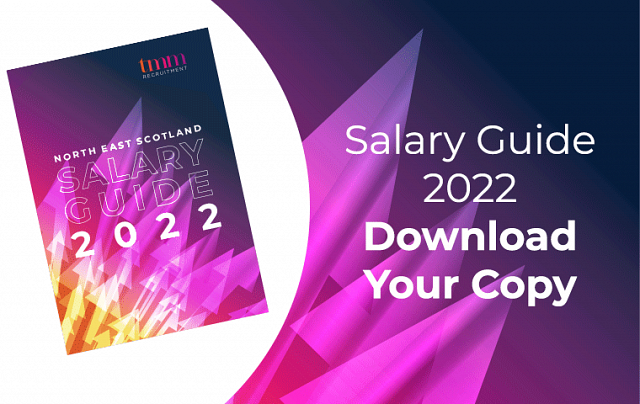 There's been a shift in the way people view their work and what they're looking for from their employer. Salary is only one aspect of employee engagement and needs to be balanced with a wider strategy that recognises what motivates people to perform at work and how to retain them. We asked the experts for some advice, Richard Petrie of Anderson Anderson Brown and Lisa Thomson from PurposeHR explain how employers can improve recruitment and retention with good employee engagement strategies and by illustrating the value of benefits in a way that connects with job seekers and employees.
You'll also find interesting commentary from Andy Rodden of Energy Transition Zone sharing how ETZ is allocating funding across a wide range of energy-related projects to support skills development and skills transition.
Use our salary guide to help you make better decisions about rates of pay when you're recruitment planning. Download your copy of the TMM Recruitment North East Scotland Salary Guide 2022.