ADHD Umbrella Project
30th June 2022
The west end of Aberdeen will come to life under a canopy of colourful umbrellas this summer as part of a charity partnership between city recruitment agency TMM Recruitment and the ADHD Foundation.
TMM Recruitment has signed up as a supporter of the charity's Umbrella Project, which will see strings of bright umbrellas suspended outside its office on Albyn Place from the end of the month until September.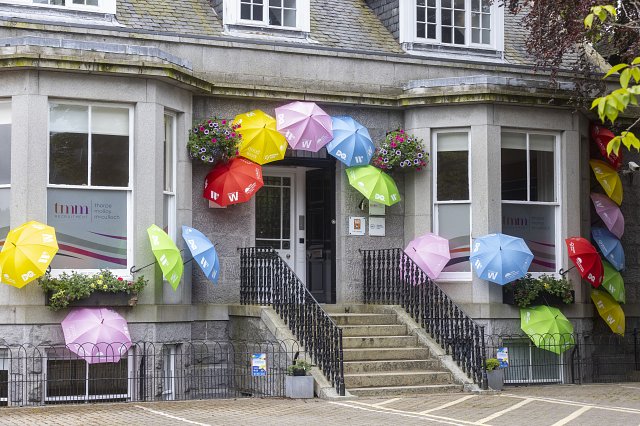 Celebrating the many strengths that come from thinking differently
City centre BID Aberdeen Inspired is working with the ADHD Foundation to create colourful umbrella installations in the city centre, with Shiprow and Bon Accord Crescent confirmed as the two main locations.
Featuring multi-coloured umbrellas suspended across city centre streets, the displays aim to raise awareness of and to celebrate the 'umbrella' term of neurodiversity, including ADHD, autism, dyslexia, dysgraphia, and dyspraxia.
As well as corporate supporters, schools can also create their own mini umbrella displays, highlighting neurodiversity in children and young people in educational settings.
TMM Recruitment is passionate about promoting diversity and inclusion in recruitment and has been working with an Australian campaigner to raise awareness of changes employers could make to ensure neurodiverse people have a positive experience when going for an interview.
Amanda McCulloch, chief executive of TMM Recruitment, said it was important to raise awareness of the need for diversity and inclusion.
"We are proud to be supporting the ADHD Foundation's Umbrella Campaign this summer and we hope our umbrella display will prove to be a talking point and an important tool for raising awareness of neurodiversity," she said.
Recruitment processes often don't support an organisation's diversity and inclusion agenda.
"Much of our work in recruitment is about really getting to know people, their personalities, their skills and matching them with the right jobs to ensure a good fit and a great outcome for both the job seeker and employer.
"However, recruitment processes often don't support an organisation's diversity and inclusion agenda. We have been working with Nesceda Blake, a young autistic woman based in Melbourne, who registered with an agency and received guidance on how to conduct herself in a professional capacity, some of which felt wrong for her as an individual."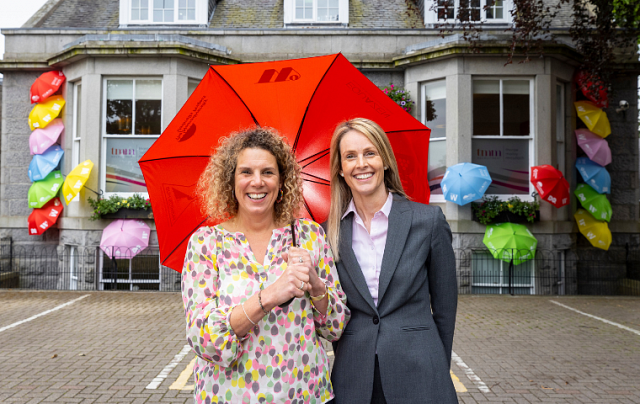 Judith Thorpe, Director and Amanda McCulloch, Chief Executive
With 1 in 5 humans being neurodivergent, 1 in 67 of us on the autistic spectrum, 1 in 20 with ADHD or dyspraxia and 1 in 10 with dyslexia, many people process and interact with their environment and the people around them differently.
We hope the Umbrella Project will get people talking about neurodiversity and lead to positive changes.
"We live in such a diverse society yet we still recruit based on so-called 'normal' standards," said Amanda. "Nesceda's recommendations for a more neuro-inclusive recruitment process include simplifying job specs, providing step-by-step guidance on the application and interview processes, offering a video interview, and being mindful that we are all unique and think and learn in different ways.
"We hope the Umbrella Project will get people talking about neurodiversity and lead to positive changes, as well as providing an injection of colour to our streets."
Glasgow and Edinburgh are among the other cities which have signed up to take part in the Umbrella Project, which will be coming to Scotland for the first time following huge success in other UK locations since 2017, including Heathrow Airport.
Other cities including Cardiff, London and Brighton will also be hosting umbrellas this year.
The Umbrella Project celebrates the intelligence, ability and talent of every human being, including every neurodiverse individual, empowering and enabling the next generation of children and young people.
Dr Tony Lloyd, chief executive of the ADHD Foundation, said: "Through this Umbrella Project across the city of Aberdeen, we can celebrate all the strengths and abilities of neurodiverse people. We must stop thinking of those with dyslexia, autism, ADHD, dyspraxia as somehow 'less than' or defining them by what they cannot do.
"That 19th-century concept of intelligence and ability has no place in the 21st-century – the major growth companies in the world who have actively recruited neurodiverse employees for over 20 years recognise the extraordinary creativity and ability of a neurodiverse workforce."