This Is How To Appeal To The Next Generation Of Talent
11th July 2023
In the run-up to World Youth Skills Day (15th July), our finance recruiter Craig Low caught up with Finn Semmler. His chosen career is accountancy and, in this interview, Finn explains:
how his employer and colleagues are contributing to his development,
how employers can tap into the potential of young people and appeal to the ambitious accountants of the future, and
the advice he'd share with peers who are starting out in their careers.
Craig: Finn, how has your career developed in the past 12 months?
Finn: A big milestone for me was moving out of a contract position to a staff position at an E&P company, especially at my age.
I've built on the experience I had with another energy firm – it has been interesting to learn how things are different between organisations. A permanent position has led to funding of accountancy qualifications, so I've been learning about the accountancy profession as well as the energy industry.
Craig: What are you learning in your job right now compared to 12 months ago?
Finn: Systems. It's a new challenge to learn and use SAP more extensively – it's an expansive application that supports my new role.
I'm also learning about how different departments operate and interact together, for instance, finance, commercial and supply chain.
I'm lucky to be working with colleagues who have a wealth of experience and have been in the industry whether it's finance, consultancy, or oil and gas service, for a long time. I'm learning from their experience, gaining general knowledge of business, finance, and accountancy.
There are so many different regions of oil and gas that I had no idea about. The company town hall meetings are informative - about what's happening in the business, and how the industry works.
I'm lucky to be working with colleagues who have a wealth of experience...
Craig: You are learning a lot and that's what you need to be doing at this stage in your career. Next question - during your selection process, what do you think made you stand out from other applicants?
Finn: Enthusiasm was a massive part. I remember for the interview for my first job in accountancy, the first thing that came out of my mouth was "I'm really excited to be here, thank you so much for this opportunity, I am really interested and excited to show you what I can provide to the organisation". I had no previous work experience, so it was primarily personal questions I was asked, and being fresh and enthusiastic was what they were looking for – I'm sure it was my enthusiasm that pulled it off.
When I was interviewed for my current post, the interview was focused much more on my experience and how I could apply it within the organisation as well as describing the services I could offer.
Craig: Selling your services – I like that perspective. What advice would you share with other young people that you wish you had known when you were starting to look for your first job?
Finn: I wish I'd known about recruitment agencies – honestly!
Craig: That's what I like to hear!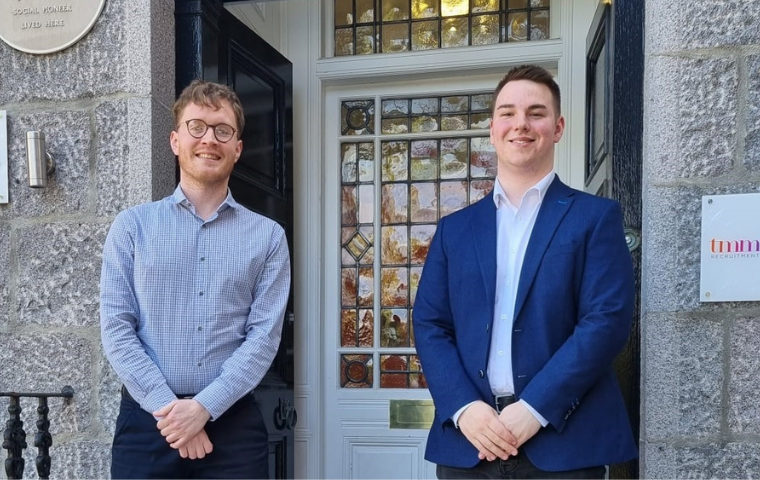 Finn: I think the personal touch with TMM, and my trust in my recruitment consultant. I'm only speaking from personal experience.
As I've touched on, appreciate that attitude is important – showing enthusiasm and a willingness to learn, not just within your job, but being open to the wider variety of finance, especially if it's an entry-level job in AP, AR, or Credit Control, and you know that at some point you'll want to progress. Just soak all the experience up like a sponge, absolutely go for it to get all the knowledge you possibly can.
The two companies I have had the pleasure of working for are both young, growing, and fast developing and I've gathered how things operate in business as well as learning finance terminology.
My advice to others would be to focus on what you provide to the organisation, make good, solid connections, learn as much as you possibly can, and walk into work every day with an optimistic, enthusiastic attitude.
Craig: Fantastic. What do you want to achieve next, and what's your ultimate career goal?
Finn: I am an extremely driven person, devoted to throwing my younger years into this career, to try and build it as high as it possibly can be.
My focus is development, development, development, learn, learn, learn. I think the next step is going to be chartered accountancy. Chartership gives a globally recognised qualification demonstrating competence and professional standards. I think it's quite hard to progress in the world of finance without it.
I think just aim for the stars, and having a chartered finance background can lead to senior leadership roles - I'm not putting a title to it I'm just focusing on moving constantly.

Soak all the experience up like a sponge, absolutely go for it to get all the knowlege you possibly can.
Craig: Quite right and like you say a finance background opens alternate, flexible career options. The final question we have got for you Finn is what can employers do to appeal to young ambitious future accountants?
Finn: The big thing for me is to create opportunities for progression and proper career planning. I imagine it is a very hard loop to get into when you think you are stuck, but if there is an agreed path for you to follow it gives you a sense of the future, for example knowing you'll be supported to get your qualifications, explaining what needs to be achieved to get to a certain position makes you think "yeah I've got this plan, why would I want to go somewhere else when this is what I can be." It gives you a vision.
Craig: Something to strive towards.
Finn: Yes, I think for a lot of young people a vision is something that's necessary, something to show that "look if you stick at this, this is what you can achieve". Qualification support from the company is a big thing as well because it boosts the progression aspect.
Craig: It's a two-way street, isn't it? They invest in you and in return, you become the best version of yourself, and I think that goes a long way.