Transferable Skills From A Career In Sport
1st June 2023
by Senior Business Manager Cammy Keith

My time as a semi-pro footballer has been at the forefront of my mind lately. I briefly emerged from retirement last month for a charity match in aid of Keith Cancer Link, and have closely followed the 40th-anniversary celebrations of Aberdeen's Gothenburg Greats. Last weekend there was the Soccer Aid for UNICEF charity match, where a host of famous faces stepped onto the pitch at Old Trafford - including my football idol Francesco Totti.
I found my time in football, both as a semi-pro in Scotland and across the pond where I played NCAA Division 1 level football, to be a formative experience. I set out to make the most of the opportunities in front of me and that has shaped how I approach my role as a manager and a recruiter.
I knew the experience I gained through football would be invaluable for the rest of my life.
Teamwork
I began playing for Keith FC as a fresh-faced 17-year-old and retired from the sport at the age of 34. I retired as the club's all-time top goal scorer, a fact I am immensely proud of. Leaving was a huge decision for me, but it felt like the right time. I had achieved everything I'd set out to, both from a team perspective and individually. I knew that the experience I had gained through football would be invaluable for the rest of my life.
Looking back at my time in football, there are certain skills I developed that have transferred into how I perform in my professional life, including, as clichéd as it sounds, teamwork.
Playing as part of a squad involves the management of multiple different personality types – the loud ones, the quiet ones, and all those in between. You must be able to work effectively with all of them if you are to collectively succeed.
Turning 'me' into 'us' is the first step on the road to success, be that scoring goals, recruiting candidates, or anything else you put your mind to.
Resilience
Saying that, not everything is achievable on the first try. Starting out in my career in football I received my fair share of knockbacks, teaching me the value of resilience. At 19, I was rejected by Nottingham Forest, following a trial, and then I tore my ankle ligaments within the opening minutes of my first game playing in the States. I was supposed to be the striker that the club had brought in to score goals, but within five minutes of game time, I was out of action. Football seasons in the US are very short, and I was out injured for three weeks. This incident made me question whether I should throw in the towel before I even got started. But I persevered and came back stronger.
The highs and lows in football, which usually accompany the wins and losses, taught me to never rest on my laurels. I learned that you can always improve, but more importantly that you can always come back from a loss.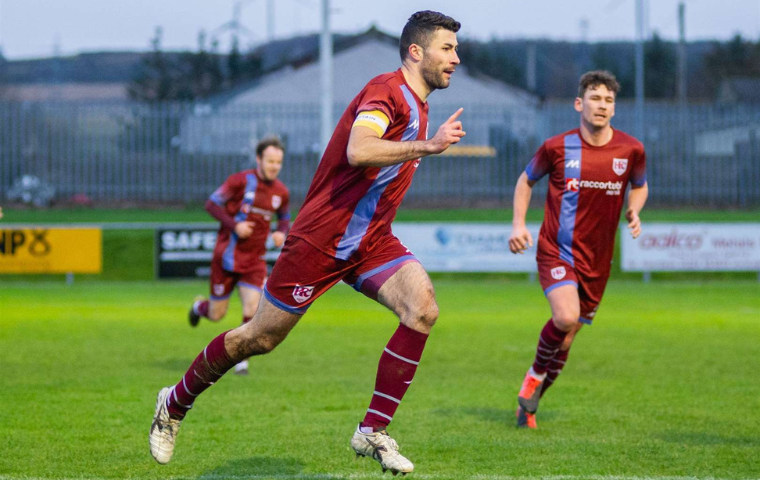 Breadth of Experience
It's funny, looking back now, I can draw a lot of parallels between my time as a young footballer and the early stages of my recruitment career. And then again from my time as captain of Keith FC and becoming a manager at TMM Recruitment. I didn't realise I was learning at the time. You pick up so much without realising it; people skills, teamworking, strength of character, the list goes on. They are all built into the experience, whether that is assisting a teammate or being shouted at by an old-school football manager, everything is a learning opportunity.
Management Style

I have worked under a variety of different managers in my time, all with very different managerial styles. I have taken something from all of them. Blending methods together to see what fits best for me and my way of working, both on the pitch and behind a desk.
In my experience, the key is to tailor your style to the individual you are managing.
I would regularly receive feedback from my coaches, sometimes from personable managers and sometimes from ones who would give us the 'hairdryer treatment', ranting and raving at us in the locker room. Feedback is an essential step on the journey to personal growth, you just need to consider the person you are speaking to and how best to connect with them.
Culture & Camaraderie
Working in a close-knit environment, be that a football team or an office inspires a sense of team spirit and loyalty. I forged lifelong bonds with the people I played football with, in fact, my best pal from the States was one of my best men at my wedding alongside my brothers. We didn't just work together, we shared our wins and losses together, we socialised together, we developed a culture together.
Playing alongside different characters in football gave me the ability to speak to anyone - be that candidates, clients, or colleagues.
The value of building that culture, in developing a camaraderie with the people in the trenches with you, cannot be overstated. Playing alongside different characters in football gave me the ability to speak to anyone – be that candidates, clients, or colleagues. I am professional, but friendly and down-to-earth, instead of acting too corporate.
Attitude
My employers have always been great advocates for my time in football. This was really important to me. I firmly believe that the beginning of a young adult's career should not necessarily mean the end of their sporting one, no matter the level they are playing at. You can certainly have the best of both worlds. And it's okay not to have it all planned ahead of time. My career in recruitment started when my mum spotted a small newspaper advert. You might not have it figured out right away, but trust me, it all falls into place.
It's rare that things come together exactly how we expect they will, and if something doesn't work out, there is an entire world of opportunity out there. So many skills are transferable. Between jobs, between sectors, and between industries. I see that every day with the candidates I work with. I place people into jobs in the energy industry, and more often now than ever before, candidates are moving from oil and gas jobs to renewables and vice versa. I'm also helping people enter the energy industry who have worked in other sectors all their careers and are worried about not having the right skills. They shouldn't be. Knowledge and skills can traverse sectors, but the first step is having the attitude to try something new.