Restructuring Our Thinking
10th July 2017
One thing we all know for sure is that our businesses need to be continually adapting and consequently, restructuring – but don't presume that I mean making people redundant. Quite the contrary.

During a time of incredible change, factors critical for success from a resourcing and employee engagement point of view remain constant:
The retention and motivation of key employees.
Developing effective managers.
Consolidation of a successful leadership team.
You'll be aware of the local skills shortage if you are searching for HRIS people, recently qualified CAs, corporate reporting accountants or a role which requires a second language. While this creates pressure for hiring managers now, it will also impact future retention rates as candidate confidence grows and passive job seekers become increasingly receptive to new opportunities.
As the result of restructuring, employees who feel they transitioned into a role which has excessive (unappreciated) workload; does not fit their skill set or stymies their career development are high risk leavers. Recognise any of these in your organisation?
And what about the manager who is perceived to be a bad communicator "hiding in his office all day"? Perhaps he is under the cosh working in an environment where the scope of the job has not been determined. We've even heard that the quirks of matrix frameworks following restructuring activity have thrown up employee appraisals that the manager did not know he was responsible for. Perhaps you recognise this too?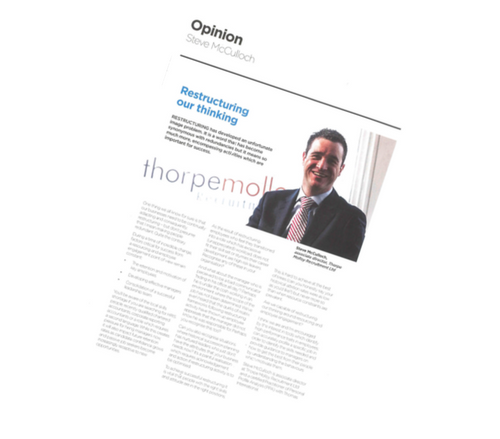 Can you also recognise situations where historical succession planning has nurtured leaders who just don't have the attributes that your business needs now? It's a painful realisation which requires acknowledgement and action if restructuring activity is to be optimised.
To achieve successful restructuring it is vital that people with the right skills and attitude are in the right positions. This is hard to achieve at the best of times (can you honestly say your historical attrition rates were as low as you'd like?) but never more so than when resource constraints are prevalent.
Are we capable of restructuring our thinking around resourcing and employee engagement?
I think we are and I'm encouraged by the interest in tools which identify high performance traits in employees; can accurately profile a specific job in order to identify the skills needed and provide guidance to managers on how to get the best from their people by understanding the behaviours which motivate them.
Steve is Associate Director at Thorpe Molloy Recruitment and a certified practitioner of Personal Profile Analysis (PPA) with Thomas International.
This article also appeared in the July edition of Aberdeen & Grampian Chamber of Commerce Business Bulletin.