Management And Team Promotions
19th August 2020
Aberdeen recruitment agency Thorpe Molloy McCulloch Recruitment Ltd (TMM Recruitment) has made four key promotions to include the appointment of Chris Carr as a Business Manager.
Chris leads the company's HR recruitment specialism which has continued to grow in strategic importance under his management. Chris excels at relationship building as well as service delivery. In his role interfacing with HR and internal recruitment teams he has nurtured business development opportunities leading to revenue generation across the company's ten recruitment specialisms. A talented communicator, Chris uniquely showcased TMM Recruitment's team spirit and camaraderie by penning the recent TMM20 COVID19 video. As a result of his promotion to Business Manager, Chris joins the Operations Management team.
Alongside Chris, HR recruitment colleague Caitlin Taylor is promoted to Senior Recruitment Consultant. Since joining the business just over 2 years ago Caitlin has worked with Chris to build the specialism's reputation for dedicated candidate care, relationship management and client support throughout the recruitment life cycle.
Recruiters Paul Duthie and Scott Keith are promoted from Senior Recruitment Consultant to Business Consultant grade within their respective areas of specialism. During Paul's six year tenure, his focus has been centred within the Trades team and currently he oversees manufacturing, maintenance, yard and stores recruitment. Scott joined TMM Recruitment in 2013 as a trainee graduate and as a result of his strong work ethic and diligence was afforded the opportunity to lead the IT and Engineering specialisms.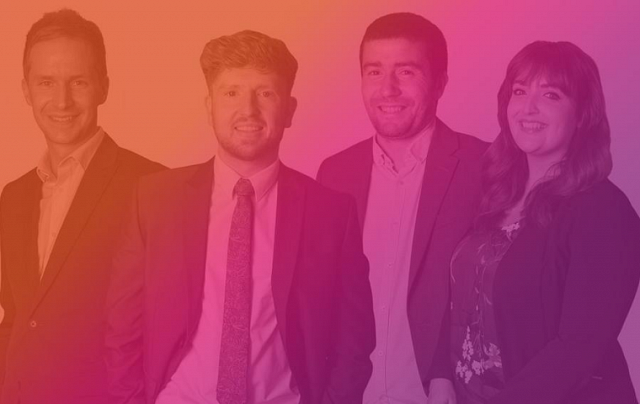 L - R: Chris, Paul, Scott and Caitlin
Amanda McCulloch, Managing Director, comments "Throughout the disruption caused by the COVID-19 crisis we have focused on maintaining service delivery standards to our customers while operating with a smaller team. Employee development, progression and recognition remain very important to us and these promotions recognise the energy, new ideas and contributions Chris, Caitlin, Paul and Scott have made within their individual specialisms and across the entire business over the last eighteen months."